Sometimes, especially in commerce, it's better to do nothing but look at the latest and best products, make notes, and then design something that incorporates everything all those products had, but with perhaps things that they didn't have.
If you do that, then you will generally have a sure-fire winner on your hands.
That's probably what happened to the machine I am leading you onto here.
Notice I called it a "machine", not a camera? Well that's because it is a precision engineered machine, as well as fantastic camera.
The camera is none other than the Nikon F Photomic slr.
I know. The Nikon F was not the only slr around at the time. But everyone remembers it as being the most famous one, because it had all the best features of other cameras of the era….the Pentax, Leica, Contax and others.
At the time, and we are talking of around the late 1950s, the majority of the cameras available were in essence, a compromise. You got sharp images, but the lens was fixed focus. Or you got variable focus lenses, but lost out in speed. So, a compromise, whereby you had to accept one feature but lose out to another.
Enter stage left, the Nikon F!
No longer did you have to put up with lenses that remained stopped down after exposure. The mirror in the Nikon F swiftly flew back into it's original position after every shot. It's viewfinder could be swapped with a plethora of different ones in order to shoot every conceivable photo. Added to that, was a huge range of additional lenses, power drives for faster shooting, extra film backs that gave you up to 250 exposures, titanium foil shutters, the list goes on.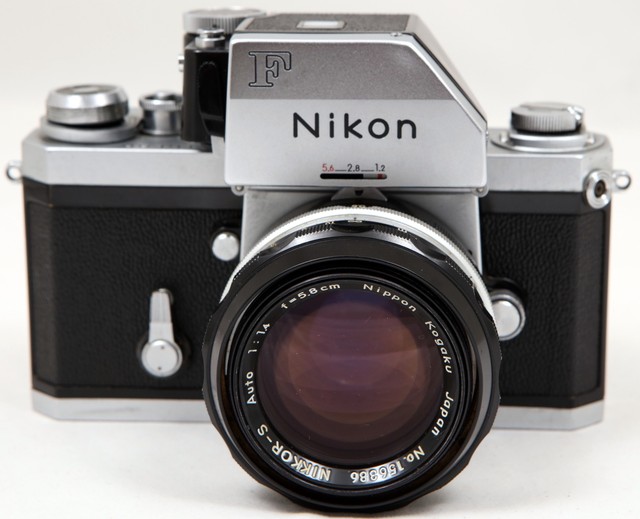 But above all, the Nikon F was so solidly put together, that photographers even now marvel at how great it feels to hold in the hand. And to quote a famous photographer I once knew….."if it stops working, you can always give it to your wife to use as doorstop, or failing that, use it as a lethal weapon to throw at a thief intent on robbing you!"
When it was marketed, the Nikon F raised so many valid questions from the public. Why were German cameras, which were at the time leaders in the field, why were they so expensive? How could the cheaper Nikon F, and one made by Japan no less, be better and more solidly built than the German Leicas, Contax and Zeiss cameras?
photo courtesy klassic-cameras.de
So obviously, the German manufacturers had no answer to that! And of course, the public voted by their feet, making the Nikon F one of the highest selling slr cameras in the world.
What were the benefits of the Nikon F then?
It is such a marvel of futuristic thinking, that even now, in the 21st century, the Nikon F goes on and on. Reason being, it has no batteries that can go flat or start to leak, no electronics that can malfunction, and no contacts that corrode and cause trouble later on.
The Nikon is so fundamentally designed, that a complete novice can use it.
The top half of the camera just has simple shutter dial for the speed, a film advance lever for moving the frame on after shooting, the all-important shutter release button and of course the film rewind knob.
At the back of the camera, there is a lever that allows you to swap the viewfinder, while back on the front again is a self timer lever, mirror lockup switch, depth of field preview button and a release button for when you wish to change lenses over.
In use, the Nikon F is akin to a world class ballet dancer….each dial moves into place with a satisfying click, the film advance sound is precise and accurate, and all other controls are placed in such aesthetic positions, that one wonders how the engineers managed to get everything just right.
The Nikon F has been used to cover wars, it has been used to take photos in space during lunar orbit, you name it, it has done it.
I think I have said enough here now to whet your appetite! Go get your hands on one!
And no, before you ask, I do have one myself, and I am afraid I will not be selling it. I am keeping it!
🙂
photos courtesy flickr.com